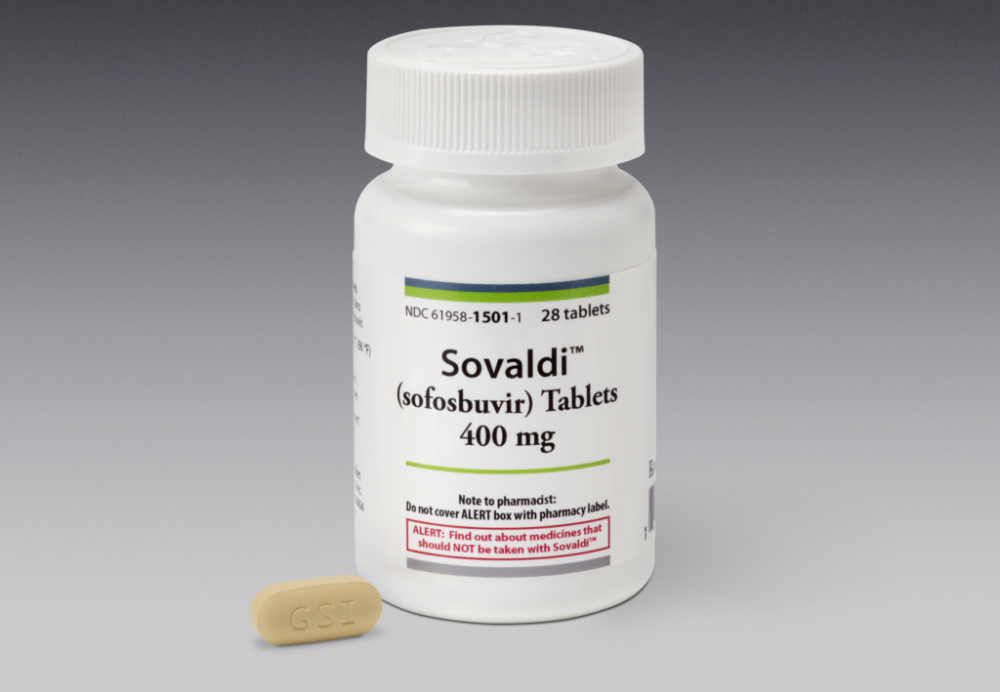 There are no alternatives to Sofosbuvir in the treatment of hepatitis C. Without this medicine, it is impossible to destroy the hepatitis C virus. Russian patients also know about it. If Sofosbuvir is needed for treatment, where can I buy this remedy in Russia? There are several options. But which of them is optimal in terms of price, authenticity, quality?
Why Sofosbuvir is not sold in pharmacies
The first thought that comes to the mind of drug buyers is to buy Sofosbuvir in a pharmacy. After all, Sofosbuvir is not some dubious drug, not a homeopathic remedy, and not a dietary supplement. This is a certified pharmaceutical product that has passed clinical trials and received official permission for use in medical practice.
So, logically, Sofosbuvir should be in pharmacies. And he is there. But not everyone, but only the original American-made drug Sovaldi. It was under this commercial name that the drug was released in the United States in 2013 by Gilead Sciences (Gilead Science).
By itself, Sovaldi-Sofosbuvir, although it fights the virus, does not always destroy it. Therefore, to help Sofosbuvir, Gilead, together with another company, Bristol-Myers Squibb, released funds with a similar effect:
Recovery from hepatitis C is possible only with the combined use of these drugs. Velpatasvir and Ledipasvir are available only in combination with Sofosbuvir. And Sofosbuvir and Daclatasvir alone or in the form of combined agents. But where to buy Sofosbuvir and Daclatasvir?
The difficulty lies in the fact that American medicines are very expensive and therefore accessible to few. With this in mind, Gilead has granted licenses for the development of generics, patented analogues, to some Indian companies:
Natco Pharma
Hetero
Zydus Heptiza
Aprazer.
These companies release generic drugs officially under license granted by Gilead. Production is carried out according to American technology. Therefore, they do not differ in quality from American original drugs, but are cheaper.
Russian pharmacies provide only American original drugs from Gilead. But the prices for these funds in Russia are also high. For example, there are pharmacies where you can buy Ledipasvir Sofosbuvir in the form of the original Harvoni. The packaging of this drug costs about 400,000 rubles. The course of treatment requires 3 packs for 1,200,000 rubles.
Some go to commercial tricks - they sell 1 package for 1,000,000 rubles. And 3 packs for 1,200,000. Such a discount for the course. But after all, the final cost remains the same, and the price for 1 package is artificially inflated. In any case, the medicine is expensive. But this is an original product, and the probability of fakes is zero here.
Is it possible to buy Indian-made Sofosbuvir in a pharmacy, not original, but also protected from fakes? Alas. There are no Indian products in Russian pharmacies. For the buyer, this fact may cause suspicions about the authenticity of generics. But the reasons for the absence are not in this, but in the peculiarities of the domestic marketing policy.
Of course, it is possible to organize public procurement of Indian generics at the official level. And after that, create a specialized pharmacy chain where you can buy Sofosbuvir and Velpatasvir, Daclatasvir, Ledipasvir at a low price.
And there is an even better option. Obtain a license from Gilead, and set up production ourselves. Then it would be possible to avoid additional costs associated with imports, transportation from afar. An affordable effective home-produced drug would be at hand, and hundreds of thousands of patients with hepatitis C would be saved.
But this is not beneficial either to the owners of pharmacies, or to officials importing medicines, or to other dealers in pharmacy. They are not interested in cheap products. The more expensive the drug, the greater the profit.
In the pharmaceutical business, too, there is the concept of "rollback". The manufacturing company, in order to interest the seller company, provides the drug at a discount. Its size can reach 50% or more. This is a kind of veiled corruption. It would seem that the retail price should fall by the same amount. Funds have been saved.
But no. Before the drug from the pharmaceutical plant reaches the pharmacy, it will go a long way. Paperwork, customs clearance, storage in warehouses, transportation - all this is carried out by commercial intermediary firms far from free. As you get closer to the pharmacy, the medicine becomes more and more expensive. Yes, and the owner of the pharmacy sells it at a premium. So it turns out that, as a result, an imported drug in our country is not cheaper, but more expensive than in our native country.
And what kind of "kickback" or "gain" can be from cheap Indian generics? Minimum. Or none at all. Therefore, there is no public procurement of these funds. So it turns out that in Russian pharmacies you can buy high-quality, but expensive American Sofosbuvir. And no less high-quality cheap Indian Sofosbuvir is absent in them.
Where else can you buy Sofosbuvir?
Even if you scold domestic officials, pharmacists, businessmen for a long time, Indian Sofosbuvir will still not appear in pharmacies. But there are other options on how and where to buy Sofosbuvir and Daclatasvir.
Directly from India
Take a plane ticket, fly to India, buy a cheap generic, and come back. That's just the medicine after that will cease to be cheap. The cost of Indian medicines in terms of rupees is 34,000-49,000 rubles. for a course of 12 weeks. And the price of a plane ticket to India is more than 20,000 rubles. one way. So it turns out that the cost is doubled.
But the problem is not only this. You need to find the company yourself. But a foreign country is full of dangers - from crime to tropical diseases. And even if you are flying to India not purposefully for medicines, but on vacation, and expect to purchase generics along the way, this option is hardly suitable. Ignorance of local laws, regulations, customs can be expensive, much more expensive than hepatitis drugs.
You can buy generics from India at Indian prices without leaving Russia, and without even leaving your hometown. There is a StopGepatit company for this. Why StopHepatitis?
We are not a one day company. We have been operating since 2013 and specialize in the sale and delivery of Indian generics.
We are official. All products are genuine. Preparations of Sofosbuvir, Daclatasvir, Velpatasvir, Ledipasvir are produced by Indian companies under an American license and have certificates.
StopHepatit is not an intermediary, but a distributor of Indian manufacturers in our pharmaceutical market. We do not overcharge, but provide Indian generics at the manufacturer's price.
When placing an order, you will be advised by the StopHepatit staff. You will find out which drug is best for you, how long to take it, and get answers to other questions.
We deliver orders by courier service to any city of the Russian Federation within 3-7 days without prepayment. You will pay for the drug only after you receive it from the courier, and make sure that it is authentic and safe.
Thus, StopGepetit is fast, reliable, efficient, and cheap.
On the forums
Another way Sofosbuvir where to buy offline. The demand for Sofosbuvir is large, and the supply is corresponding. Many medical and pharmaceutical forums are replete with reports of the sale of Sofosbuvir generics. These messages are submitted not only by companies, but also by individuals.
Sofosbuvir costs from individuals sometimes cheaper than ours. The low cost is often explained by the fact that the drugs were left over from previous treatment by the seller or his relatives. Or the seller went to India on some other business, and along the way took a medicine for hepatitis to help his compatriots.
In rare cases, messages from foreigners come across on the forums. Say, a wealthy person lives in India, and was filled with a desire to help patients from distant Russia. And now he is ready to send the medicine at the original price. You only need to pay for shipping. Such concern is also more than suspicious.
Whatever the explanation, such messages should alert. After all, the medicine is dispensed only on a prepaid basis. There is a high probability that you will pay for the medicine and receive nothing in return.
The situation is similar with companies that allegedly distribute generics. These distributors do not have data, or the data is difficult to verify. At the same time, the account where the money is transferred is issued to a private person. Incredibly high numbers should raise doubts: 30 years of work experience, a staff of several thousand employees, we work in 90 countries of the world. The same applies to numerous reviews from grateful customers (most likely paid), as well as the desire to get into personal contact (messages on social networks, by e-mail).
In online pharmacies
Through the World Wide Web, you can buy, if not all, then a lot, incl. and medicines. Therefore, in which pharmacy you can buy Sofosbuvir - this is in an online pharmacy. Prices here are also low, and almost do not differ from producer prices in India. But there are also pitfalls.
Not all, but some pharmacies belong to the same one-day firms with a dubious reputation. There is a possibility that you will receive counterfeit products. Her signs:
The color and shape of the tablets do not correspond to Indian preparations. There is no engraving on the surface of the tablets.
The appearance (color, inscriptions, design) of a cardboard box and a plastic jar differ from Indian-made packaging. There is no hologram on the box.
The batch numbers in the documents, on the cardboard box, and on the plastic jar do not match.
The expiration date on the package has expired.
True, all this is already revealed at the time of receipt. And it is difficult to "calculate" a fake in advance. And it's just as hard to get back the wasted money.
Another trick from unscrupulous sellers: instead of Indian generics, they provide Indonesian, Egyptian, or Chinese-made Sofosbuvir. Such drugs are even cheaper than Sofosbuvir from India. And some buyers are attracted by this cheapness. That's just the majority of Egyptian and Indonesian enterprises operate without American licenses.
Accordingly, clinical trials have not been passed, the production process is not controlled, and the quality of medicines is not checked. There is a high probability that drugs are produced in violation of pharmaceutical standards. These medicines cannot even be called generics. Unlicensed products - the same fake.
Chinese Sofosbuvir is produced not in tablets, but in powder. Due to its low cost, it is also in demand among some categories of patients. By itself, cheap Sofosbuvir powder should not raise doubts about authenticity. This is an obvious fake. And how to combine Sofosbuvir powder with Velpatasvir, Ledipasvir, Daclatasvir? Also a mystery.
From all this it follows that a cheap remedy can also be effective. A vivid example of this is Indian generics. But not every cheap remedy is genuine. In this regard, drugs with a suspiciously low price from unverified sellers should alert.
In order not to waste money, not to miss precious time, and to defeat hepatitis, buy generics only from officially registered representatives of Indian companies. Contact MHP and we will help you.